What is TiVo+?
The TiVo+ (TiVo Plus) app features streaming channels that offer TV series, movies, music videos, and more. This app is included free with Blue Ridge Stream, Blue Ridge Stream + Live TV, TiVo DVR, or TiVo Smartbox.
Please note: TiVo+ channels are not viewable through the Blue Ridge Stream app, but can be viewed from a Blue Ridge Stream unit within your home.
How do I use TiVo+?
Press the [TiVo] button

on your remote and use the right arrow button to navigate to TiVo+. If you don't see that option, select Apps. Under All or Video, select TiVo+.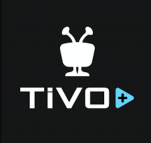 Please note: Upon first launching the app, you will need to accept the TiVo Privacy Policy. Select Privacy Policy or Terms & Conditions to read them. Select Accept to continue.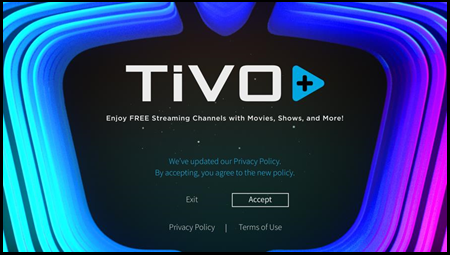 Available streaming channels will appear in an onscreen guide format.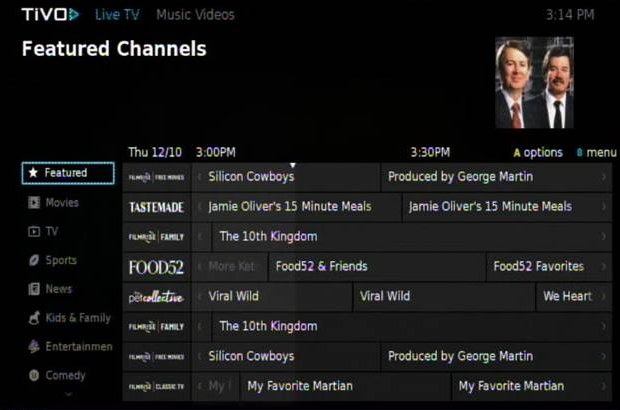 Select a category from the left-hand column, or scroll through the available channels using your remote's arrow buttons. Highlighting a program title will provide a description of the program currently airing.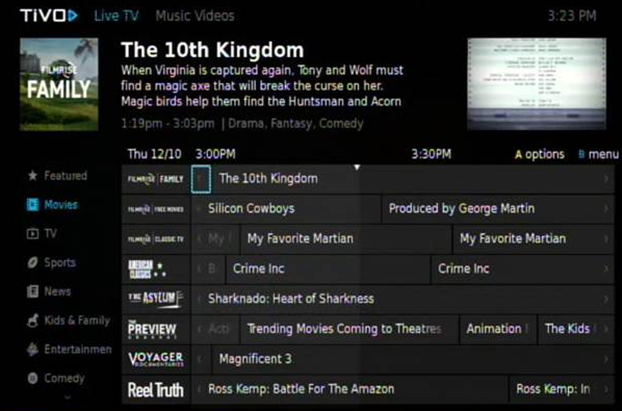 Press [OK] on the channel of your choice to start watching. Press the yellow [A] button to turn Screen Reader on or off.
While watching TiVo+ programming, the following buttons on your remote have the listed effects:
Info: Displays program information and activation of Closed Captions where available
Back: Returns to the TiVo+ channel menu
Clear: Returns to the TiVo+ channel menu
Exit: Exits the app
Live TV: Exits the app and returns to Live TV
Guide: Exits the app and displays your normal channel guide
Channel up/down or number keys: No effect
Record/Play/Pause/Rewind/Fast-Forward.: No effect
Skip back: Returns to the TiVo+ channel menu
Enter: No effect
Please note: TiVo+ only provides live streaming channels. You will not have DVR or Video on Demand functionality.
What type of content is available on TiVo+?
The following streaming channels are included. Please note, available channels are subject to change.
| | |
| --- | --- |
| Channel # | TiVo+ Lineup as of 9/21/22 |
| 1001 | Accuweather |
| 1002 | Newsmax |
| 1003 | Newsy |
| 1004 | Cheddar |
| 1005 | USA Today |
| 1006 | Law and Crime |
| 1007 | Hallmark Movies |
| 1008 | CineLife |
| 1009 | Swerve |
| 1010 | Filmrise - Free Movies |
| 1011 | Filmrise - Family |
| 1012 | The Asylum |
| 1013 | Black Cinema |
| 1014 | Showtime at the Apollo |
| 1015 | theGrio |
| 1016 | Filmrise - True Crime |
| 1017 | Filmrise - Classic TV |
| 1018 | American Classic |
| 1019 | Electric Now |
| 1020 | Dust |
| 1021 | True History |
| 1022 | Voyager Documentaries |
| 1023 | Nature Vision |
| 1024 | Reel Truth |
| 1025 | Journy |
| 1026 | Power Nation |
| 1027 | Motorvision.TV |
| 1028 | TMZ |
| 1029 | OMG Network |
| 1030 | Funny or Die |
| 1031 | Revry |
| 1032 | Filmrise - Food |
| 1033 | Gusto |
| 1034 | Tastemade |
| 1035 | Bon Appetit |
| 1036 | Food 52 |
| 1037 | QVC |
| 1038 | Architectural Digest |
| 1039 | Complex |
| 1040 | GQ |
| 1041 | Glamour |
| 1042 | HSN |
| 1043 | Fail Army |
| 1044 | Pet Collective |
| 1045 | Atmosphere |
| 1046 | People are Awesome |
| 1047 | Just for Laughs & Gags |
| 1048 | Mobcrush |
| 1049 | Wired |
| 1050 | PGA |
| 1051 | Sportswire |
| 1052 | BE in Sports |
| 1053 | Outside TV |
| 1054 | Adventure Sports |
| 1055 | Mr Bean & Friends |
| 1056 | Kabillion |
| 1057 | Battery Pop |
| 1058 | Puddle Jumper |
| 1059 | Ameba |
| 1060 | Kartoon |
| 1061 | Moovimex |
| 1062 | Pongaol Novela Club |
| 1063 | Baeble |