I have no dial tone. What should I do?
First, please verify if the problem is occurring on all phones in the home. Make sure that all of your phones are "on the hook." Cordless phones can lose their connection from their bases, such as during brief power outages.
To reset the connection between the cordless handset and its base, place the handset on the base and unplug the base from the power for 30 seconds to 1 minute, and then plug it back in. A disconnected cordless phone may cause the phone to read as off-hook or provide a No line message. A blinking Tel 1 or Tel 2 light on your Digital Phone Modem also indicates a line is in-use.
Locate your eMTA Digital Phone Modem. It will be labeled Arris and feature Tel 1 and Tel 2 lights on the front. If any lights are unlit, such as the Power or Tel 1 lights, your modem may need to be reset. Please make sure the power cord, coaxial cable cord, and phone cord are tightly connected in the back of the modem, and that the modem is connected to an active power source.
On the back of the Digital Phone Modem you will see a recessed reset button. Using a narrow object like a pencil point or a pushpin, lightly push in the reset button and then release. This should cause the lights to start changing. Wait approximately 5 minutes for the modem to completely reset, and then check for dial tone.

If you're unable to press the reset button, unplug the Digital Phone Modem from its power source, and remove the back-up battery (if connected) for about 30 seconds, then reconnect to power. Wait approximately 5 minutes for the modem to completely reset, and then check for dial tone.
I've reset my modem, but I still don't have a dial tone. Now what?
If you still do not have dial tone, try plugging one of your phones directly into the top phone jack on the back of the Digital Phone Modem. This jack may be labeled Tel 1, Line ½, etc. Check for dial tone.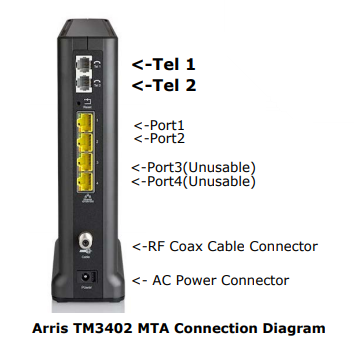 If plugging one phone directly into the Digital Phone Modem resolves the issue, please contact us and schedule a service call. This may indicate a problem with one or more of the lines in your home, or a jack in one or more of your rooms.
If the above does not resolve your issue, please let us know by phone at 1-800-222-5377, by contacting us, or by entering a chat support session.