What is delivery?
Blue Ridge offers delivery and self-installation of select services. Rather than schedule an appointment for a technician to enter your home and install equipment, you may choose to have the equipment delivered, and then install and activate it in your own time.
Delivery would be completed within three days of your order. Equipment deliveries occur Monday through Saturday.
Please note: Not all services are eligible for delivery and self-installation. Existing customers who subscribe to Blue Ridge Fiber service are not currently eligible for delivery and self-installation.
Which services can be delivered to my home?
Services eligible for delivery and self-installation include:
Internet (except Blue Ridge Fiber)
HomeFi
Blue Ridge Stream, with or without Live TV
Services which can NOT be delivered include:
Blue Ridge Fiber Internet
DTA Cable boxes
Digital Phone service
Blue Ridge Smart Home security
Is there a cost to having services delivered?
We are currently offering free delivery for new and existing customers self-installing services!
A standard delivery charge of $19.95 would otherwise apply per order. Having services professionally installed would incur a $54.95 charge, so you will see a savings by taking advantage of self-installation.
How does delivery work?
If placing an order online, select Delivery – Self-Install on the Installation Method screen. Make sure to sign all electronic agreements presented, such as the E-Sign Disclosure and High Speed Internet Service Agreement.
You can also place an order for delivery with a Blue Ridge agent. Agents have the ability to place a wider variety of orders for both new and existing customers, so please contact us if you need further assistance with your order or have any questions.
A technician will deliver equipment to the physical location where the service will be used, not to an alternate mailing address. An instruction guide will be included in the box.
An email notification will be sent to you to confirm your order, another when your equipment is out for delivery, and another when it has arrived.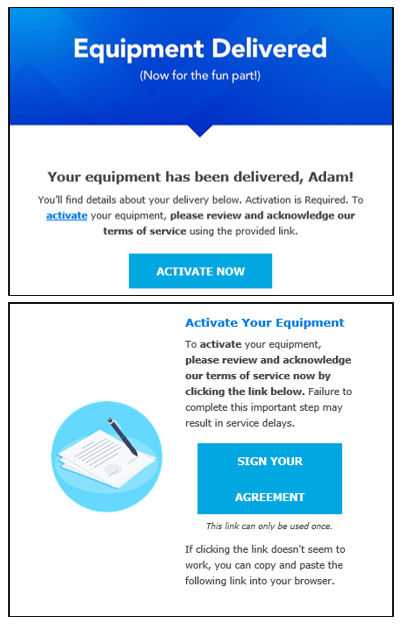 Important: In the arrival email, click the Activate Now link to activate service and electronically sign all applicable customer agreements, such as the Service and Equipment Agreement and Equipment Acknowledgement.
If you do not sign the agreements and activate service within 30 days of delivery, the order will be cancelled. You will receive an email alert which will provide further information.
Can I swap existing TV service for Blue Ridge Stream via delivery?
Yes! We also now allow self-installation of Blue Ridge Stream to replace existing cable services. Equipment that can be swapped for Stream includes TiVo, digital cable, DVR, or DTA boxes.
If swapping existing services for Stream, you do not need to return other equipment. Once the electronic agreements are signed and Stream units activated, your old boxes will stop working.
How do I install the service?
If you ordered multiple services, please install them in the following order: first Internet, then HomeFi, then Stream.
Please see the following articles on self-installing service:
Please refer to our Remote Help section for remote control programming steps.
Help! I'm having trouble with my self-installation.
If you're having trouble activating service or installing equipment, please contact us. We'd be happy to walk you through completing the installation.
In the event a technician is required to come to your home and complete the installation, a one-time charge of $24.95 will apply for the visit.
Help! My delivery did not arrive / I'm missing equipment from my delivery.
Please contact us for further assistance.