What is a My Blue Ridge account?
With a My Blue Ridge account, you can log into your Blue Ridge account online to view and pay bills, set up automatic payment, paperless billing, or text message alerts, track data usage, upgrade your internet speed, order Pay-per-View, and manage your digital phone features. A My Blue Ridge account will also allow you to sign into the app or website for TV channels to view their shows and movies.
You can access My Blue Ridge via brctv.com or from the free My Blue Ridge mobile app for Apple or Android.
How do I create a My Blue Ridge account?
In order to register a new My Blue Ridge account, please try the following steps:
Click Register on the app from the main page or go to www.brctv.com/register and fill out the form. Click Next when done.

The username can have letters, numbers, or match your email address.
The password must:

Be less than 50 and more than 8 characters in length.
Contain at least one upper case and one lower case letter.
Contain at least one number.
Contain at least one special character (such as ! $ % etc.)

Please note: The @ symbol is only allowed if it is part of an email address.

Not contain your username.

After you create a username and password, you'll receive an email from us. Click or tap the Confirm Registration link in the email. Once you see Information successfully confirmed, click close.
After you confirm your registration, you must sign in with your new username and password.
Enter your account number (as 9 digits, including any leading zeroes and the hyphen) and the zip code of your physical street address.
For your security, you will need to answer two security questions previously set up by the named account holder.
After you correctly answer your security questions, your account will be fully registered. You'll be directed to the Overview section of My Blue Ridge, Manage My Account.
I forgot my username or password.
No problem! Please use the following links. Don't forget to check your email after clicking Submit:
Forgot Username: You'll need to enter your email address as well as your first and last name. Your username will be sent to the email address associated with your Blue Ridge account.
Forgot Password: Enter your username, and a password reset link will be emailed to you.
What is a sub-account?
How do I create a sub-account?
Sub-accounts allow you to provide other members of your household with their own username and password. This is useful for setting up parental controls to specify allowed content ratings for each account. Please note that sub-accounts do not have access to your billing or payment information. They are only used to access streaming apps that require a Blue Ridge log-in, such as those located here: http://www.brctv.com/apps.
To create a sub-account, you will first need to register a primary account. Once signed in, you can create a sub-account via the My Blue Ridge app or your web browser.
My Blue Ridge app:
Sign into the My Blue Ridge app with your primary account.
From the Home screen, tap Account at the bottom, or tap the Menu button in the top left, and then tap Account Settings.
Tap Create New Sub-Account.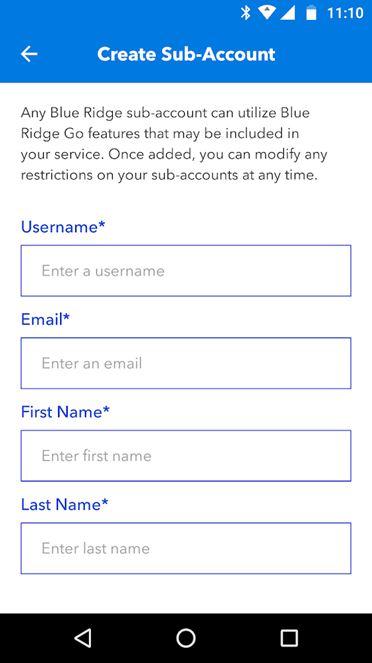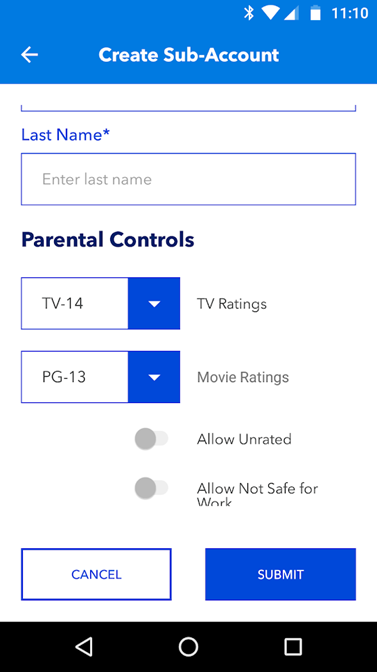 Enter the information and set parental controls as desired. When you're done, tap Submit.
An email from noreply@brctv.com will arrive at the email address you entered. The user of the sub-account must click the Create Password button to enter their desired password, and then click Submit.
To delete the sub-account, the primary account holder may tap Remove on the line containing that sub-account, and then tap OK.